The Competition and Markets Authority (CMA) has been investigating the sector since 2017, and has warned that breaches in consumer protection laws could lead to court action.
Travel aggregator sites such as Booking.com and Expedia are highly visible, with 70% of people who shop around for a good deal using them according to the CMA. This makes them an invaluable revenue channel for hotels, especially when their own website isn't as strong, or their brand less well known.
The watchdog did not specify which sites were being targeted. The investigation involved widespread concerns about how the hotels are ranked, and how the search results are "influenced by factors that may not be relevant to the customer's requirements, such as the amount of commission a hotel pays the site".
Many of these websites also use pressure selling techniques. You will probably recognise notices that let you know the property is popular, exclaiming how many rooms are left, or highlighting how many people are also looking at your location. These techniques can make a user feel as though they need to rush into booking.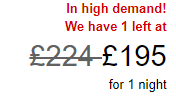 Thanks to their visibility, travel aggregators are able to charge large commission. Hotels can protect their brand (and pay far less for conversions) if they use brand bidding on search engines such as Bing and Google to make sure they appear at the top of the results. This is especially important because if a customer is searching for your hotel name, they're already familiar with the brand – so you don't need to be paying for a third party's visibility. You can use Google Adwords and check impression share to see how your brand terms are ranking against these travel giants.
If your website isn't in a good state, it doesn't work well on mobile, or your booking process is time consuming, it can be worth the commission to make sure you're still filling your rooms. In the long run, a better website will improve brand recognition and help lower costs.
All hoteliers can learn from the findings – whether advertising on an aggregator or building your own site, transparency and clarity about pricing, availability and demand are all key factors to a great user experience.
Looking to improve your conversion rates, need help with brand bidding, or time for a new site? Get in touch with the digital team at Thissaway and we'll be happy to talk through your challenges.